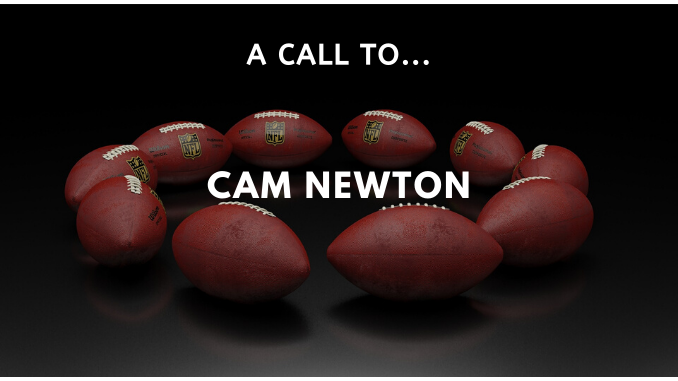 The NFL's Carolina Panthers have parted ways with their longtime starting quarterback, Cam Newton.  Lots of speculation out there has been about Cam Newton and his diet.
Quarterback Cam Newton reacts to being released by Carolina Panthers. https://t.co/NN776o3AaI pic.twitter.com/FCfZvA1JGk

— AL.com (@aldotcom) March 25, 2020
It's been a long, strange trip for the quarterback to say the least.
Newton was drafted by the Panthers first overall in the 2011 NFL Draft.

As a prospect, Newton rose up the charts after a crazy impressive season at the University of Auburn in 2010.  In just one season, Newton scored a total of 50 all-purpose touchdowns.  He ended up winning a number of awards, including the Heisman Trophy.  He and the Auburn Tigers also won the National Championship.
Before playing his first game, Newton signed a four-year, $22-million contract, with 100% of the money guaranteed.
He had a solid rookie season in 2011, throwing a career-high 517 times, 21 touchdowns, 17 interceptions, and 4,576 yards.  He also ran for 14 more touchdowns, also a career-high.  That season culminated in an appearance in the NFL Pro Bowl.
Newton continued to improve in the 2012 and 2013 NFL seasons.  He started 48 out of a possible 48 games those first three years.  Newton was headed on the right track.  He was an NFL star.
2013 also saw Newton in his first playoff game, a loss to the San Francisco 49ers.
2014 saw him miss two games of action.  His quarterback rating dipped to a career-low of 82.1.  He missed the first game of the season due to an ankle injury.  He played 14 straight games before missing the regular-season finale due to injuries sustained in a car accident.
Newton came back to win one playoff game for the Panthers before losing to the Seattle Seahawks in the second round.
A career year
2015 was the pinnacle of Newton's career.  For the fourth time in five seasons, Newton appeared in all 16 regular-season games for the Panthers.  His stats and his presence were amazing.
• 35 passing touchdowns.
• A career-high passer rating of 99.4.
• 10 rushing touchdowns.
• 45 all-purpose touchdowns, also a career-high.
Newton followed that up with being awarded the NFL's Most Valuable Player.  He led his team to Super Bowl 50, where the Panthers lost 24-10 to the Denver Broncos.
The following years
The next three years were more of a mixed bag compared to that magical 2015 season.
Newton had a then-career-worst passer rating of 75.8 in 2016.  He was injured one game and missed a start in another game due to a "dress code violation."
Cam Newton benched for dress code violation https://t.co/P95agcDvzw pic.twitter.com/qo6ZS5f4au

— WPXI (@WPXI) December 6, 2016
2017 was another less-than-great season.  One bright mark in 2017 was he had career highs in rushing attempts and rushing yards, and managed to start in all 16 games.  The Panthers made it to the playoffs, where they lost on Wild Card Weekend to the New Orleans Saints.
In 2018, his passer rating went back up to a very good 94.2.  Despite that, he'd had a nagging shoulder injury all season that he was able to play through, but still missed two games.  Still, he had career-highs in completions and completion percentage.
A move to veganism
From an unknown point in his career to March of 2019, Newton was a self-proclaimed pescetarian.  He consumed a diet of veggies and no meat other than fish.  I'm a big advocate of fish consumption.  Not so much for the protein and fat that I crave, but for the abundance of vitamins and amino acids.

But in March of 2019, he went from pescetarian to full-on vegan, and had already been vegan for about a month before announcing the news on a YouTube video.
Newton went "vegan strong," as he called it in his coming-out video.
In his video, he appeared to have lost 15-20 pounds from his previous build.
"Some of the strongest animals, or some of the strongest species on this Earth, are vegetarian," Newton claimed as he stacked boxes in a garage.
Gorillas and elephants thrive on vegetation, as he claims.
But can humans be equated to gorillas and elephants?
His performance in 2019
Newton started the first two games of 2019: A 30-27 loss to the Los Angeles Rams, and a 20-14 loss to the Tampa Bay Buccaneers at home and on Thursday Night Football.  Primetime, the whole nation was watching.
Newton threw no touchdowns, one interception, and a career-low 71.0 passer rating in two games played in 2019.  He also rushed for negative-two rushing yards in five attempts.  He was bad.
After the second game against Tampa Bay, Newton alluded to performance being at the root of the problem.  "All fingers are pointed back to the offense and me specifically," said Newton.  He and the offense were booed off the field after numerous unsuccessful third-down conversions.
Newton was held out of week three action due to injury.  Then week four, then week five.  He was battling something that he could not shake.  The Panthers ended up putting Newton on injured reserve on November 5th, ending his season nearly two months prematurely.  The Panthers cited a "slower than expected" injury recovery from a fracture in his foot.
Hmmm….
Recent seasons also saw Newton engaging in odd off-the-field pre- and post-game dress, an effort to make himself stand out.
Twitter Reacts to Cam Newton's Thursday Night Football Attire (Tweets-Vids) https://t.co/HtXrWrg8mW pic.twitter.com/XqXeEeUWeI

— Robert Littal (@BSO) September 12, 2019
As a starting quarterback, do you really want to "stand out" from the rest of your team?  In an ultimate team game such as football?  In an ultimate leadership position such as quarterback?
To say the least, the decision-making was peculiar.  What was once written off as "snazzy dress" was becoming……odd.
On March 17, 2020, the Panthers let Newton know that he could seek a trade, effectively breaking the relationship with the one-time star quarterback.  When it became apparent there were no takers for Newton via trade, he got released.
The #Panthers tried to send Cam Newton to the #Bears and #Chargers. They found no takers and at this point, no starting jobs available. Release was the only option. Carolina has just $2M in dead money with this release, but Cam is now free.

— Ian Rapoport (@RapSheet) March 24, 2020
No takers for Cam Newton, just four years removed from league MVP and two years removed from his last playoff season.
No takers for Cam Newton, just 30 years of age, an age where some quarterbacks start to take off and produce for another 5-6 years.
Now that the Panthers have released Newton outright (he was still under contract), he is now an unrestricted free agent.
My plea to Cam Newton
Cam,
See this as the first day of the rest of your career.  You'll get a new start somewhere, most likely as a backup, but that's OK.  All the starting jobs in the NFL appear to be taken.  Again, that's OK.
Starting QBs get injured all the time.  You can take the reins and still be successful.
How about this, though?  Please, Cam, look into and strongly consider an animal-based way of eating.
If you still want carbs, sure, get carbs through cruciferous vegetables.  Want more than that?  Only eat more complex carbs if you earn them!  And you will earn them.  
Other than that, eat plenty of steak.  Eat plenty of pork.  Eat plenty of chicken.  Eat a burger without the bun!  All of this is fuel.
You were a pescatarian before: eat plenty of fish for essential vitamins.
Eat plenty of fat.  Get a nice ribeye!  The fat will make you feel satiated.  That's important for a high-performance athlete, right?  Not feeling hungry all the time.  Feeling strong and ready to take a physical pounding.  Your immune system will thank you and so will your digestive system.  Also, monitor your ability to heal in the future.  
It's not too late, Cam.  I'd love to see you bounce back in your NFL career, healthy, at one with your body and with your teammates.  The NFL is a better product with a healthy and vibrant Cam Newton.
This is your chance, Cam.
---
Please feel free to comment in the box below!