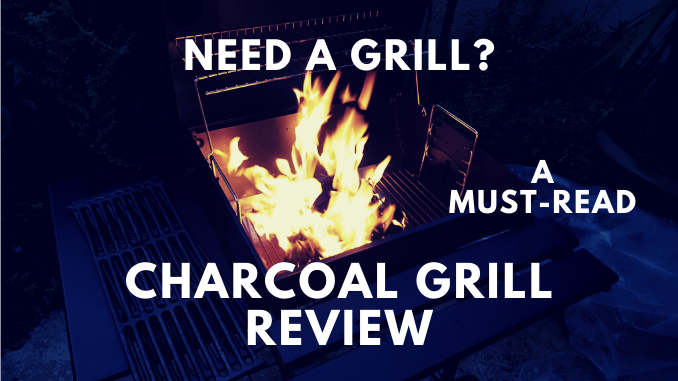 What do you look for in a charcoal grill review?  Price?  Features?  Bang for the buck?
This is a grill that provides tremendous bang for the buck.  I even own this grill personally.  I bought mine in February of 2016 and I'm still cooking on it today.
---
Product: Char-Griller E2123 Wrangler 635 Square Inch Charcoal Grill/Smoker
Where to Buy: Amazon.com
Size: 50″ H x 29″ W x 35″ L
My rating: 8 out of 10

---
Overview
We bought a house in the fall of 2015.  I never had a grill and I was never really big into grilling.
My dad had one and he and I would grill on occasion.  Until 2015 there was never really a place where I could grill.
I lived in a series of apartments all through adulthood and nowhere with a porch large enough or a place suitable for grilling.
My only choice was the community grill at the pool.  It got the job done.  However, hoping no one else had the same idea was no way to go.
Now that we had a property of our own, and a nice open-air patio perfect for a grill, it was time to make an investment.

My daughter's first birthday was right around the corner, so I wanted nothing more than to celebrate her birthday and to grill a ton of food for everyone attending.
Assembly
I bought this grill from Lowe's fully assembled, so I can't actually vouch for how easy or hard the assembly was.
I did have to detach the barrel from the legs to get it to fit in my car.  I then reassembled by putting the barrel on the legs.  It was easy.  Just a couple of screws and bolts.  A screwdriver and a small crescent wrench did the trick.

Amazon users have given 3.9 out of 5 stars for ease of assembly.
Portability
This isn't the most portable grill you can get.  If you want something more portable, get a camping grill.
That said, this unit does have wheels on it and actually wheels around pretty easily.  Therefore, if you want to put the grill in the back of a truck and take it somewhere to cook, it is doable.
In preparation for Hurricane Irma in 2017, I had to take everything off my back porch and put it in my garage.  That included the grill, which simply wheeled right into the garage.
First Grill
Before grilling, you will need to season the grates.
The weekend before my daughter's birthday, I took the grill on its maiden voyage.  I wanted to break it in a bit, plus I wanted to get the hang of some of the functionality.

I cooked some burgers the first time around.  They came out fantastic.

Features
The grill comes with a number of good features.
• A side tray and a front tray.  Good for keeping plates for your finished food.
• A side vent and a top vent for control of ventilation.  You will want this for maintaining temperature, depending on whether you grill or whether you smoke.

• A bottom grate with ash pan.  The ash pan keeps the ashed charcoal out of the bottom of the grill's barrel.
• Three top grill grates.  Your grates are in three pieces for easy removal and in case you want to cook something with heat on one side and the food on the other.  You may want to keep a grate or two aside.
• A warming rack.   I use this for when I'm done with hot dogs, but need a few more minutes on other items such as chicken and sausage.
• A bottom shelf for keeping charcoal.  This can also work for your grilling utensils.
• Wheels for easy transport.  Like I said earlier, the wheels are a life-saver if you need to move the grill.
• An "S" shaped tool for removing the grates.  This is a huge benefit for when you want to move the grates while they're hot.  You can even use it when the grates are cold, just to keep your hands from getting greasy.
Other tidbits
There is that question of where does the grease go?  At the bottom of the barrel, there's a small hole with a hook.   Take an old, empty soup can, wrap the hook around it.  That old soup can will capture any overflow grease that would otherwise end up on your floor.
Very little grease will leave the grill.  I have never had to dump out the grease can.
What would I improve?
Not too much.  Four years in, the grill is still going strong.  The only thing I would improve is the solid metal bottom of the ash pan.
The ash pan slowly corroded and then eventually gave out completely after about year three of use.

Rather than buying a new bottom grate/ash pan combo for upwards of $30, I made a DIY one similar to this.
The only thing is I don't have a pan at the bottom of it to catch the ash, but that's OK.  I just clean the ash from the bottom of the barrel with my shop vac or something similar.
The grill is also not the "tightest" one out there.  With the lid closed, quite a bit of smoke escapes from where the lid meets the rest of the grill.
For grilling, it's not a big deal, but for smoking that means heat potentially can escape.  Heat getting out isn't good–not when you have to keep adding new coals prematurely.
Other than that, this is a grill that gets the job done consistently, is durable and well built.  The barrel and the legs are still holding up as strong as an ox.  I should have no problem getting another 6-7 years out of it.
Additional accessories
Charcoal Chimney: Are you disgusted by the idea of using lighter fluid to get your charcoal going?  What if I told you there's another way?

You can use this little gadget right here.  Just throw a few pieces of newspaper in the bottom of it, your charcoals on the top, wait 30-45 minutes, dump the coals, and voila!
No worrying about having to eat food tainted with lighter fluid.
Grill cover: I have one of these for my grill.  It's a must for keeping it out of the elements and maximizing the grill's lifespan.

I've had mine for most of the time I've had the grill.  The logo has faded a little, but the cover itself is showing little sign of decay and is holding up to the harsh Florida sunshine and humidity amazingly well.
Grill with 13-piece wooden-handle tool set: Want a package deal?  Don't want to worry about making sure you need to go out to get all the tools?
For about $20 more, there is an option to get the grill along with this terrific grilling tool set with plastic case.

Made by Cuisinart, the case comes with a brush, spatula, tongs, skewers, and corn picks.
In closing
Overall, this is a very solid and reliable grill for the money.  You'll get a good number of years out of it, getting to grill consistently great meat.
I've made many a meal on this bad boy, and I will make many many more yet.
Would I buy it again, given what I know four years in?  Heck yes!

Do you have one of these grills?  Do you have another grill that you're happy with?  Are you considering getting one of these grills and have more questions?  Please comment in the box below!
---
This post may contain affiliate links.  See Animalbasedlife.com's Affiliates Disclosure here.