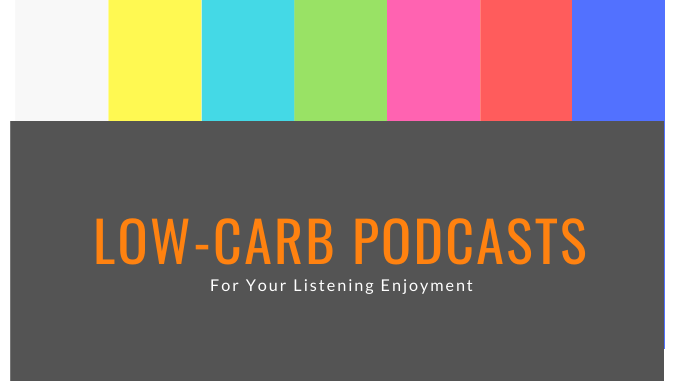 Over the years, I've gotten more into podcasts, particularly low-carb podcasts.  They're a good way to pass the time and to get good information while working, while driving, or even while doing stuff around the house.  Depending on my mood, I even listen to them while working out, although I generally prefer music in that case.

I first got into podcasts in 2012.  Mohr Stories, comedian Jay Mohr's podcast, was the first one I subscribed to.  At the time, I didn't even have a podcasting app.  I just subscribed on iTunes, which was on my computer.  I would upload podcasts on my iPod and listen to the episodes that way.
I have a podcasting app now, Podcast Addict.  I've been using Podcast Addict for about five years, and I would recommend it to anyone who needs an app to keep multiple podcasts organized and up-to-date.
Over the years, I've added on podcasts as I've heard about them.  I've also unsubscribed from some, as sometimes a podcast no longer holds interest.
My podcast app has kind of become like a football team.  Players coming and players going as time goes on.  Every year, the roster looks a bit different than the previous year.
In my case, my app has become more of a source of dietary content.  Three years ago, the closest thing I had to a podcast about diet was the Adam and Dr. Drew Show, where occasionally Dr. Drew Pinsky would discuss eating.  I don't think Dr. Drew himself was even into an animal-based, low-carb way of eating then.
Arguably, Adam and Dr. Drew were the ones who got the ball rolling for me on this journey.  Podcasts have led to other podcasts and before I knew it, I arrived here.
1.) The Adam and Dr. Drew Show

Adam Carolla and Dr. Drew Pinsky are the former hosts of the popular radio call-in show, Loveline.  Though this podcast isn't a dietary presentation per se, both practice a low-carb way of eating and discuss it on the show at times.
They also take a lot of listener phone calls and go over the events of the day with a funny twist.
Carolla's rants are second to none, as is Pinsky's advice on various health topics ranging from low-carb and carnivore eating to addiction.
Is Dr. Drew a real doctor, or is he a lovvvvvve doctor?  You'll hear this reference at some point.  He is a real doctor.
I don't care for many podcasts that go beyond 90 minutes in length.  The episodes of this podcast go between 30-45 minutes, which is perfect.
Upload frequency: Nearly daily, Monday through Friday.
2.) Mikey Likes You

The podcast is hosted by Mike Catherwood, who was Dr. Drew Pinsky's other co-host on Loveline, and a current Los Angeles radio guy.  Mikey Likes You is a fun podcast where Catherwood talks about anything that's on his mind.   He's also into the Carnivore diet and will give in-depth tips on how he does with that.
It's still a fairly new podcast, only producing eight episodes to date.
He also will occasionally give some "hippie" advice and sayings, as inspired by his wife.  He's not a hippie himself, therefore the hippie references are just little things that focus around positivity.
Upload frequency: Weekly.
3.) Fitness Confidential with Vinnie Tortorich

Vinnie Tortorich is the founder of NSNG, which stands for No Sugar, No Grains.  He's even copyrighted "NSNG".
Tortorich started out as a trainer for the stars and would recommend the NSNG way of eating for those who wanted to take off weight or just add muscle mass.
Tortorich survived a bout with cancer in the late 2000s.  When he asked his doctor how to avoid a recurrence, his doctor told him to avoid sugars and grains.  Cancer needs sugars and grains to feed off of in order to survive.  At that moment, he made NSNG his permanent way of life, not just part of a training regimen.
Out of necessity, he became his own student.
He came out with the movie FAT: A Documentary last year, which is now available with Amazon Prime.
Tortorich also owns Pure Coffee Club, a coffee company, and Pure Vitamin Club, a company that provides an excellent assortment of vitamins and supplements.
Tortorich basically divides his podcasts into three categories:
A weekly segment with one of his three cohosts, Anna Vocino, Gina Grad, and Andy Schrieber.
An interview with an expert in the field of diet and/or fitness.
An interview with someone who's been successful actually practicing NSNG.  A "success story."
His podcasts are available for free for a certain period of time.  After a certain number of days, they then go behind a paywall.  If you hear a particularly pertinent episode, either download it in your podcast app, or subscribe to get unlimited access to all podcasts, plus bonus content.
Upload frequency: Around 5 episodes per week, sometimes more.
4.) The Dr. Drew Podcast

The Dr. Drew Podcast is a solo podcast with Dr. Drew Pinsky.
In most episodes, he brings in an expert to discuss any number of subjects regarding health.  Of course, this includes diet and a low-carb way of eating.
On other episodes, he will simply take listener calls on a variety of subjects.  Those subjects include relationships, sex, and drug addiction.
Each episode is around an hour long.  Call-in shows tend to be a little shorter, around 45 minutes.
Upload frequency: Weekly
5.) The Natural State Podcast with Dr. Anthony Gustin

The Natural State Podcast is hosted by Dr. Anthony Gustin.  Once overweight and feeling like crap himself, Gustin arrived at this point through both life experience and medical experience.
Gustin is the founder and CEO of Perfect Keto.
The Natural State Podcast was called The Keto Answers Podcast but was renamed back in August of 2019.  At that point, it became more wide-ranging, making more extensive use of Dr. Gustin's vast knowledge.
Episodes recently have included calorie-tracking, emotional awareness, histamine intolerance, hunting, and of course a good number of animal-based and Keto episodes.
Similar to Dr. Drew, episodes are around an hour long and interview-heavy.
Upload frequency: Weekly, every Monday.
6.) Fundamental Health Podcast with Dr. Paul Saladino, MD

After hearing Dr. Saladino on a recent episode of the aforementioned Natural State Podcast, and keeping up with him on Twitter, I caught wind of his podcast.  Right away, I was impressed by his ability to carry a show and make it interesting.
Dr. Saladino attended the University of Washington and the University of Arizona, and now maintains his own private practice in San Diego.   He's now regarded as the leading authority on the carnivore diet.   He's even a published author with his book The Carnivore Code.
Unlike most podcasts, Dr. Saladino is doing a series, which is called Carnivore vs. Omnivore.  So far it's at four episodes and each episode has featured a different guest–all experts in the field of health.
His podcasts are also longer on average, some of them going over two hours, but all of them lasting at least one hour.
Upload frequency: 1-2 times per week.
Do you like these podcasts?  Do you have any low-carb, Carnivore, or Keto podcasts you'd like to recommend?  Please feel free to comment in the box below!
---
This post may contain affiliate links.  See Animalbasedlife.com's Affiliates Disclosure here.