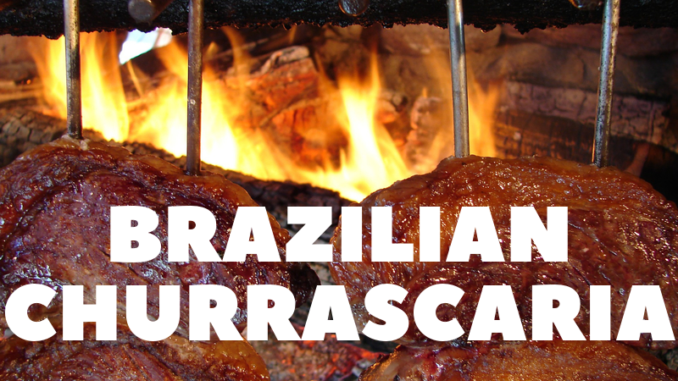 You've probably heard of this by word-of-mouth, or on social media, or in a magazine.  What is a Brazilian Churrascaria?
If you're into animal-based eating, or especially if you're specifically into the carnivore way of eating, it's a must-try.
Churrascaria
Specifically, what is a churrascaria?

Churrascaria is a place where churrasco is served.  Churrasco is a Portuguese word that approximately translates to "barbeque."
Last night, we made our second visit to a churrascaria called Terra Gaucha in Tampa.
At $46.95 per person for dinner (kids under five years of age eat at no charge), it is pricey.  For most people, it's a special-event, once-or-twice-per-year type of place.  But it is an experience, not merely a place to grab a bite to eat.
There are churrascarias in most if not all major cities in the United States and Canada.  Terra Gaucha is just one of several.

In short, it's an all-you-can-eat carnivore's paradise.
The experience at Terra Gaucha
Terra Gaucha is a place featuring neat modern decor and a huge wine selection, evident when you enter the front door.  We showed up about 25 minutes before our reservation time.  No problem.  The dining room wasn't terribly full when we got there, so we were seated immediately.
We were asked if we had been before.  This was our second time, so we didn't get the introductory pitch.  On our first trip, we were showed the buffet, which was a variety of everything from salads, to fruits and vegetables, to cheeses, and meats such as salami and capicola.  There was some sweetened bacon that looked tempting.  Ultimately, I passed.  I did grab some smoked salmon, which was lightly seasoned and delicious.
Shortly after we were seated the waiter brought small plates of cooked bananas, polenta fries, and mashed potatoes.  Polenta is a fried cornmeal cut in sticks that resemble large french fries.
In the traditional style of rodizio (all-you-can-eat), the meat servers, known as passadores, start coming around with various varities of meat.  Most of them have the meat on a skewer with a sharp knife.  Each place setting has a small pair of tongs to use to pull the meat away when the passadore finishes cutting it off.
Steak, chicken, shrimp, salmon, pork, and lamb chops were among the offerings.

Pretty soon, I had a plate full of various meats.  I didn't turn down very much of it, which became overwhelming pretty quickly.  That said, the pace was fine with me and I loved the taste of everything I had.
There's a small round chip by each person at the table.  On one side, the card is red, telling the passadore no more meat.  Want more?  Flip the chip to the other side–the green side, which indicates to the roaming passadores to bring more meat.
The meat offerings
Terra Gaucha employs seemingly an endless amount of servers, who go from table to table until the meat runs out.  Once the meat is out, they grab another skewer, and head right back out into the dining room with fresh delicious meat.

Picanha: This was clearly my favorite cut of meat of the night.  A cut from the loin of the animal, this had a pronounced flavor and was charred perfectly.  My piece was somewhere between medium-rare and rare.  Perfection.
Alcatra: Like the picanha, this had a nice layer of fat that is best eaten right out of the fire while the fat is still sizzling.
Garlic picanha: I had a piece of this cut with Terra Gaucha's special garlic paste.
Linguica: Small pork sausages which have a pronounced smokey flavor.
Cordiero: Bone-in leg of lamb, charred, and marinated in wine and herbs.  I've never been a big lamb eater, but this was outstanding and by far the best lamb I've ever had.
Frango: Chicken drumsticks marinated in beer and brandy, skewered, with a crispy exterior.
Porco con Parmesao: Pork tenderloin encrusted in parmesan cheese.  I missed this one, unfortunately.
The experience is not totally meat.  One exception is a fantastic grilled pineapple that was brought around by the passadores several times throughout the meal.
A number of desserts were available, but I stopped short of indulging in such rich sweets.
Would I do it again?
This is my second time visiting.  I was thoroughly impressed the first time and was equally impressed the second time.
While the passadores were in abundance, we also had a regular waiter who kept our drinks filled, cleared plates, and offered the dessert menu.
Like I said before, this is a special occasion destination that I plan to hit up once or twice a year.
I strongly recommend for any animal-based eater to check this out.  Go on an empty stomach and prepare to eat at much tasty meat as you can possibly fit in your stomach.
Eat up!
---
Do you like Brazilian churrasco?  Is there a place you like?  What are the places in your town?  Tell us in the comment section below.