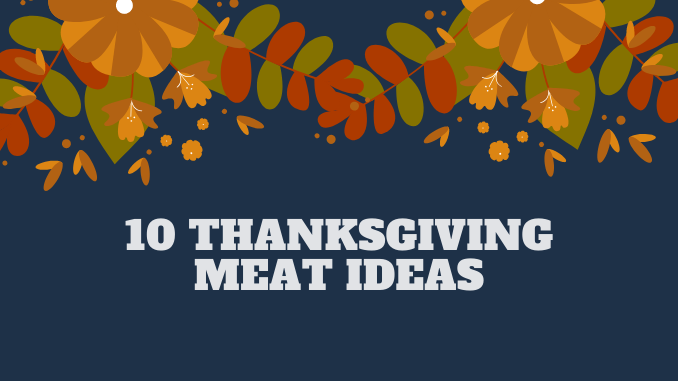 We all know the traditional Thanksgiving spread.  It revolves around turkey.  Oftentimes, there's ham there as well.  There's also the sides such as green bean casserole, stuffing (or dressing), mashed potatoes, biscuits, and cranberry sauce.  You can provide an alternative main course to turkey with these Thanksgiving meat ideas.
1.) Turkey
I wasn't going to leave out turkey.
Doesn't it seem like you've run into a hundred people in your life who have claimed to revolutionize how to cook a turkey?  Their way is the way to end all the discussion!
Smoke it, deep fry it, cook it upside down, with stuffing, without stuffing.
I don't have a dog in that particular fight.
To me, turkey is just OK.  Nothing special.  I generally stay away from the white meat altogether.  I am that guy who will eat the leg that seemingly no one else wants.  We all end up winning.
I'll leave the preparation up to you, ultimately.  But if you're looking for a way to cook your turkey for Thanksgiving, Epicurious has an assortment of 56 different turkey recipes.
2.) Ham
Turkey is the common theme for Thanksgiving, but there's almost always a ham at a family gathering.

You can always go the Honey Baked Ham route as long as you pick it up by Wednesday evening.
CavemanKeto offers a terrific Bourbon-glazed ham recipe if you're wishing not to go off the reservation for a day.
Want to free up the oven for the turkey?  There's an excellent slow-cooker option.  I really swear by the Crockpot and its set-it-and-forget it convenience while yielding consistently excellent foods.
This one really caught my eye though.  A bourbon-mustard glaze brings two terrific tastes together and adds kind of a BBQ touch to your Thanksgiving ham.
3.) Pork Butt (Shoulder)
As those of you who have been reading AnimalBasedLife know, I am a big fan of the pork butt.  It's nearly impossible to mess up,  it's tasty, and it's versatile.  I went over two great ways to make it, but for Thanksgiving, I would recommend the Crockpot method.

Using the Crockpot, you can use anything for a marinade that you can think of and it's sure to be a home run complementary option for the Thanksgiving Day main course.
Not too many are truly excited about turkey.  This is truly something to get excited about.
4.) Prime Rib
Speaking of excitement, the prime rib is another great complement to Thanksgiving.  No one is gonna fault you for going the prime rib route.  For me, I've always associated it with Christmas, but even then it's always been a huge hit.
This recipe from The Recipe Critic is not simply a recipe.  Sure it is a recipe for one of the best prime ribs I've ever been able to find.  In addition, the author also goes over what cut of meat to get, how the butcher should prepare it, as well as a primer on what exactly the cut of meat really is.
For Keto and low-carb, high-fat (LCHF) devotees, this is perfect.  A serving is a filling 548 calories, with 53 grams of fat, 16 grams of protein, and only two grams of carbs.
5.) Pork Tenderloin
The tenderloin is another delicious, easy-to-cook cut of meat.  The difference between the butt and the tenderloin is the location.  Where the butt is actually the shoulder of the pork, the tenderloin is just behind the shoulder running all the way to the hip.  Directly between the shoulder and the ham (backside).

The tenderloin is more of a lower-fat option, so it may be a more desirable option for those who prefer more protein.
Carlsbad Cravings has a terrific Italian-inspired recipe that will provide a terrific contrast and alternative to any Thanksgiving turkey.
6.) Meatloaf
Meatloaf?  Who saw this coming?
I must admit I've never seen a meatloaf at a Thanksgiving dinner before, but the more I thought about it, the more I thought, why not? 
Indeed, why not?
It can be served a variety of ways.
This recipe from Beef, It's What's For Dinner is a simple traditional meatloaf.
If you want to go outside of the box, this low-carb recipe from Delish is a grand slam.  Most of all: it's bacon-topped!
7.) Ribs
Who says you can't pull out the smoker on Thanksgiving?  It may depend on your climate.  No one wants to smoke when it's snowing or raining.  But for me in Florida, Thanksgiving is usually an ideal day for outdoors adventures.

Let the oven take care of the turkey, ham, or other things you may have in mind.
This recipe by Hey Grill Hey is fantastic in its simplicity.  It goes by the 3-2-1 method for smoking ribs, which is easy to remember and a good rule of thumb.  I'm a guy who likes ribs without sauce (rub and smoke only), therefore I'd consider leaving out the "1."  Either way, the key is "fall off the bone," which is the hallmark of great ribs.
8.) Pork Loin Roast
The loin portion of the pig surrounds the tenderloin on three sides and is often a large cut of pork compared to the more compact tenderloin.  The loin is also somewhat fattier.
Apples have their place in the Thanksgiving scheme of things.  The Food Network has a brilliant pork loin recipe featuring an apple-mustard glaze.  In the end, you end up with a large piece of meat with a nice-looking glaze on it, serving as a perfect complement to the day's feast.
9.) Beef Tenderloin
The beef tenderloin is much like the pork tenderloin in terms of position on the animal and the tenderness.

Beef tenderloin is not a cheap cut of meat, but it will surely be a big hit at any Thanksgiving festivities.
The average cost of a turkey is around $1.30 per pound, whereas beef tenderloin can run as much as $30 per pound!  Pound-for-pound, it's the most expensive cut on the cow.
At 2.4 grams of carbs per serving, this beef tenderloin recipe from Allrecipes is simple yet effective.  It covers many bases and is Keto-compliant as an added bonus.
10.) Salmon
Admittedly, fish is not usually a Thanksgiving mainstay in most families.  Why not change that in your family?

Salmon is arguably the most nutritious fish out there, filled with vitamins and Amino acids.  Salmon is a highly guilt-free dietary option on a day otherwise filled with a lot of bad food choices.
Shawna Coronado, who's into anti-inflammatory eating, has an interesting baked salmon recipe that features a lime juice and honey marinade.
A note in preparation
In these recipes, you'll want to get your meat to a certain interior temperature to ensure your meat is properly done without overcooking.
A good meat thermometer with a probe is essential to making sure you get the very best out of your Thanksgiving Day feast.
I previewed this particular Char-Broil thermometer back in September.  I own this one myself and use it for all my grilling, smoking, oven, and Crockpot endeavors.  There are many other types of meat thermometers out there, some more simple while others are more enhanced.  All of these meat thermometers are oven safe and will put emphasis on the interior of the meat and not the ambient temperature of your cooking device of choice.
Spice up the variety of your Thanksgiving feast and eat up!
---
This post may contain affiliate links.  See Animalbasedlife.com's Affiliates Disclosure here.
---
Do you have some of your own Thanksgiving meat ideas for your family feast?  Tried one of these recipes?  Please let us know in the comment box below.