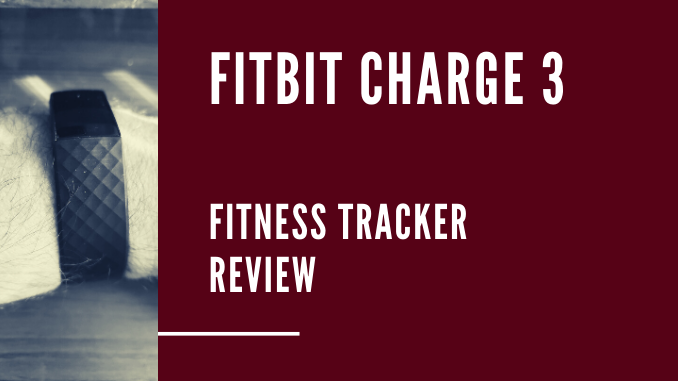 If you want a basic and affordable fitness tracker, you should take a serious look at the Fitbit Charge 3 fitness tracker.
I previously had the Samsung Health app on my phone, but it just didn't have the features of the Fitbit.  If I forgot my phone, for instance, it didn't track my steps.
---
Product: Fitbit Charge 3 Fitness Tracker
Where to Buy: Amazon.com
Size of Container: 1.76 ounces
My Rating: 9 out of 10
---
What is the Fitbit Charge 3 fitness tracker?
In short, it's a watch.

The watch is normally in the off position, which maximizes battery life.  When you want to know what time it is, or when you want to activate the watch's many functions, all you have to do is simply flip your wrist as though you're looking at a watch.
The default screen shows three things:
Where you are in your total number of steps for the day.
The time of day
An optional value where you toggle through several different options, such as:

Heart rate.
Calories burned
Distance walked
Flights of stairs climbed
Number of "active minutes."
The default screen can be bypassed by swiping left.  There, you can do the following:

Set your exercise type (running, walking, biking, treadmill, elliptical)
Relaxation mode, where you can set a timer and the Fitbit will prompt you through breathing exercises.
Timers, featuring a stopwatch and a countdown
Alarms, which can be added through the Fitbit mobile app for Android and iPhone, as well as Windows.
Weather: Current, high, and low temperature from your current location, synced from your phone.
Settings
You can also swipe up from the default screen and access:
Actual number of steps
Number of hours in the day you've gone over a preset number of steps in a given hour.  My Fitbit is set to 250 or more steps nine hours of the day.
Active heartrate.
Resting heartrate.
Number of miles walked
Steps taken.
Exercise minutes.
Hours slept the night before.
Weight, which you program through your app.
Ounces of water consumed.
Active minutes.
Flights of stairs climbed.
The Fitbit app
The watch itself is a relatively passive device that shows your progress on a limited amount of metrics.
However, it is the brains of the Fitbit setup.  In other words, if your Fitbit cannot communicate with your phone, the watch itself will hold onto all the data you've accumulated until it can communicate with the phone.
Once your phone is back in communication, simply hold down on your phone screen and swipe downward to refresh

The Fitbit communicates with your phone via Bluetooth.  The setup takes a little time and requires some steps, but it can be done by following this video.
Once paired with your phone, the Fitbit will show up on your list of Bluetooth devices as "Charge 3".

The front screen of the Fitbit app shows some very basic stats.  From there, you set your metrics depending on what your goals are.

By clicking on each respective category (steps, floors, miles, calories, exercise minutes, sleep, exercise, and heartrate), you can get a better breakdown of your metrics.
---

---

---
Battery Life
In a given day, I use anywhere from 10-12% of my battery.  The device does charge pretty fast.  What I do is put it on the charger for about 45 minutes on a weekend morning when I'm not doing much walking.  Getting it close to 100% will easily get me through the week.

Another suggestion is to keep the charger in the bathroom and to just throw it on the charger every time you're showering.  This will ensure you never run out of battery power.
Once the watch gets down to a charge of less than 20%, when you look at the watch a "battery low" symbol, a battery with an exclamation point, will appear.  If you reach that point, just be sure to get it back on the charger as quickly as possible, but definitely by the end of that day.
The charger for the Fitbit Charge 3 is a specific device that charges through the bottom of the watch's face.
Is the Fitbit Charge 3 waterproof?
Technically no.
But the Fitbit Charge 3 is water-resistant to a large extent.  Sweat or even wearing it in the shower will not adversely affect your device.

One of the options for exercise is swimming, so you can wear it in the pool down to a depth of 50 meters (approximately 160 feet).  At that depth, the greater concern is the water pressure than the water itself.  Therefore, unless you're diving deeper than any recreational diver would go, you have nothing to worry about.
Watchband
Some people buy aftermarket bands for the Fitbit Charge 3 because they don't like the look or feel.  However, I am perfectly OK with the band that comes with the device.  It's perfectly stylish for my tastes and I like the feel of it on my wrist.
What would I improve?
Really, nothing.

If you want more features, you can seek out other newer or more expensive fitness trackers.  One example would be the Versa 2.
The integration between the watch, the app, and Bluetooth was a little wonky, and I had to seek out a YouTube video to walk me through it.  Other than that, I've been very happy with this piece.
The Fitbit Charge 3 has given me an inside look on my health and fitness that was never possible before.  My favorite features on this have been the sleep patterns, heartrate, and exercise tracker.
Practical and inexpensive, and yet reliable, the Fitbit Charge 3 fitness tracker is a home run.
Are you interested in the Fitbit Charge 3?  Do you own one?  If so, what do you think about it?  Please let us know in the comment box below.
---
This post may contain affiliate links.  See Animalbasedlife.com's Affiliates Disclosure here.
---