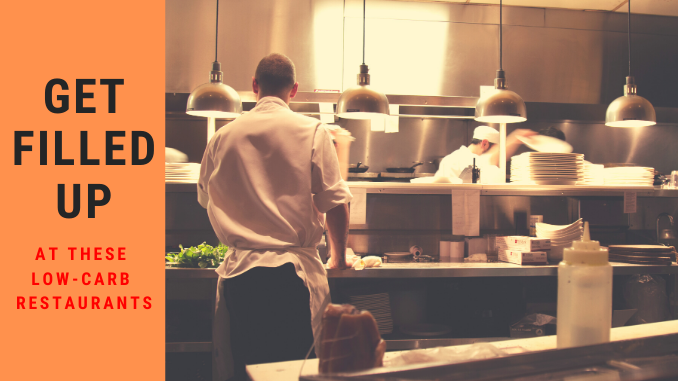 These may not be inherently "low carb restaurants."
However, I am going to go over five different restaurants that have sufficient low-carb and animal-based offerings to get you out the door satisfied.  If you're on-the-go and need to eat out for whatever reason, there's no reason to really fear.
Can we all agree there's nothing worse than walking out of a restaurant and saying "I'm hungry.  When do we eat?"
1.) McDonald's
Don't leave.  Hear me out!

McDonald's is a good consideration for the occasional meal if you're in a hurry.
A good go-to is the McDouble, with no bread.  You can order with no bun and they'll bring you a patty with cheese, its usual toppings, and even a piece of lettuce most of the time.  Along with no bun, order it also with no ketchup and it comes out to only 3 carbs per (bunless) burger.
If you don't want the McDouble, McDonald's has a handy nutrition calculator where you can play with different combinations and figure out a meal that will work within your limits.
2.) Chili's
Chili's is a restaurant with so many tempting appetizers and entrees.  Not to mention the margaritas.
If you're trying to stick it to the carbs rather than the carbs sticking it to you, look no further than Chili's 3 For $10 menu.  It comes with a non-alcoholic drink, appetizer, and an entree with two sides.

My meal here is water to drink (Diet Coke is also zero-carb), a side Caesar salad with no croutons, the 6-oz Sirloin, and double broccoli as a side dish.
3.) Golden Corral
It's a buffet but it's also a buffet that serves steak.  It has all the offerings of a buffet–including a chocolate fountain–but stay away from all that stuff.
You can order a steak to your liking, and complement it with other stuff such as baked fish and pulled pork.  Some locations also have items such as brisket, prime rib, turkey, baked chicken, .
You can usually also find an array of low-carb veggies such as broccoli, cauliflower, and green beans.
4.) Blaze Pizza
Blaze Pizza is a relatively new one, and is still not in all markets.  But they are spreading like wildfire.
Admittedly, it's not what someone would expect on a list of low-carb restaurants.
What makes a pizza place stand out enough to be on this list?  They have a Keto pizza, which features a high-fat, low-carb crust made up largely of cheese.  They're also offering a cauliflower crust for more of a vegetable-centric pizza, which is still low-carb.
Founded in 2011, Blaze Pizza currently has over 300 locations in 42 states in five countries.

Each location has a single 7-foot-wide oven that cooks all of its food.  At 700-800 degrees, a pizza cooks fully in about three minutes.
5.) Denny's
Last but not least, there's the old fashioned breakfast stop–Denny's.
You can order things largely a la carte, and the prices are reasonable.
At over 1,600 locations, you can find a Denny's almost anywhere.

For me, the Build Your Own Grand Slam is the way to go.  You get to choose four different items.  The way to go is two eggs (your choice between scrambled or the various fried methods), two sausage links, two slices of bacon, and a slice of ham.  That comes out to about $9 in most locations.  Substituting the ham with two additional eggs is about an extra thirty cents.
Carbs are more mass-produced and cheaper, and restaurants pass the "benefits" on to the customer.
---
Do you have a favorite low-carb go-to restaurant?  Anything you order from the restaurants above?  Please let us know in the comments below.